The Undertaker has been part of the rumor mill in recent times as he removed all the WWE associations from his bio. This might be a possible hint of leaving the biggest pro-wrestling banner of the world. On the other hand, it could just be a trick to take more booking from the independent scene for the time being he is not appearing in the WWE.
Amidst this, speculations are all over the place on his Wrestlemania 35 status. The biggest event of the year will follow the next global show hosted by the WWE in Saudi Arabia. On both these shows, The Undertaker should be a must-see name to sell out the venues. Unfortunately, he is off from the match cards, as per the recent reports. This does put a question mark on his wrestling career.
But recent reports from Wrestling Observer confirmed that The Undertaker is back in the conversation of Wrestlemania 35. He is scheduled to appear on the grandest stage of them all, for now. But the capacity of the appearance is still unknown. The good thing is that he appeared at the WWE Performance Center alongside wife, Michelle McCool. This indicates that he might have already started training for the comeback.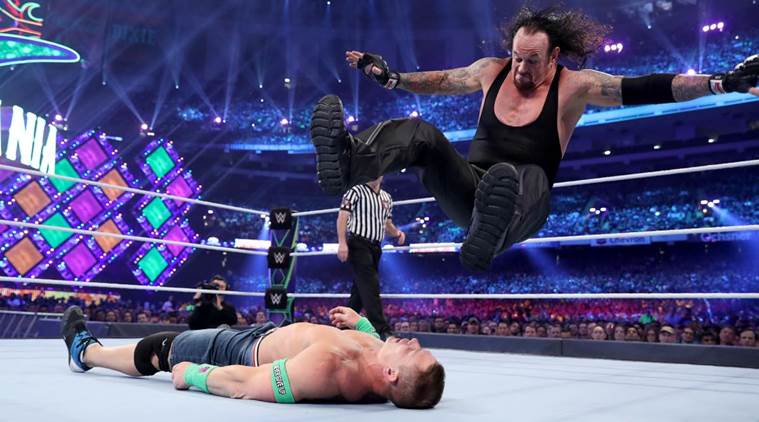 The same source previously hinted that The Undertaker was not booked on the Wrestlemania 35 match card. Even the next Saudi Arabia show did not booked him, either which came as a big letdown to the millions of the fans of the Deadman. But things can change in the near future courtesy of a big payday. Here's more update on the situation, (courtesy stillrealtous.com)
"It's being said that if The Undertaker is going to wrestle then the Saudi Arabia show would be the most likely date because it's the biggest payday, with WrestleMania being the second most likely show for him to wrestle again."
Current advertisements show that The Undertaker will appear in three shows with Inside the Ropes in London on April 30, Glasgow in May 1, and Manchester on May 2. WWE's next show in Saudi Arabia happens, the same week. So he is not likely to appear in wrestling capacity in this global pay-per-view event. We expect to get positive update on this legend's career as we move further towards Wrestlemania 35.