The Hardy Boyz are currently out of action on Smackdown Live. We have not seen them in action for the past few days be it on TV or in live events hosted by the blue brand. The last time we saw them was on the post-Wrestlemania episode of Smackdown where they made history, once again.
Matt & Jeff Hardy competed in a Tag Team Title Match against The Usos on that night to become the new Smackdown tag team champions and start a record eighth title reign. However, things did not go well for them as one of them suffered injury keeping their status as champions in jeopardy.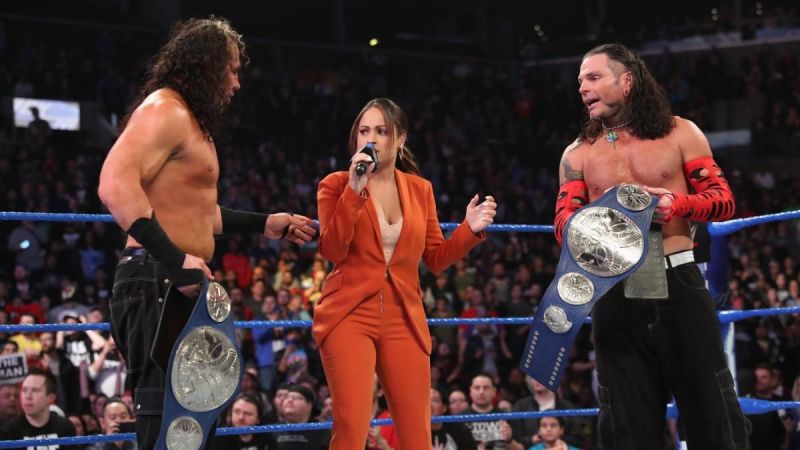 As noted by Dave Meltzer of Wrestling Observer Newsletter, Jeff Hardy is dealing with an injury for the past few days. The extent of the injury is still unknown but if the doctors can figure out a severe condition then we may witness new Smackdown tag team champions on the upcoming episode.
Jeff Hardy was last seen in a match during a house show that took place in Madison, Wisconsin on April 20th. He is missing shows since then indicating that the injury occurred on that night. Here's what the source has reported,
"Jeff Hardy is injured, I don't know how severe. It was on the Saturday night show in Madison Wisconsin. He was at the show last night — I haven't heard about tonight — he was at the show in Rochester Minnesota. He was in the corner of Matt. He was limping significantly so it's probably some sort of a leg injury."
Meltzer later added that Jeff Hardy may have re-injured his leg which has already given a lot of troubles since 2015. He met with a bike accident on that year to pick up torn PCL and continue wrestling with it. If he's having trouble in that area then surgery is the only option remains to fix the current issue. In that case, the officials will have no choice to take the Smackdown tag team championships away from them and hand it over to any other members of the tag division.