WWE's return to Saudi Arabia is going to be another star-studded affair by all means. The company's latest announcement confirmed multiple legends coming together for the upcoming show. The three headliners are going to be The Undertaker, Brock Lesnar and Goldberg! These three names are more than likely to make the event a must-see for WWE fans.
WWE and the sports authority of Saudi Arabia jointly released a statement that confirmed that Goldberg is coming back from retirement. WWE has inducted him into the Hall of Fame indicating that his career may have been over. But the huge money deal with Saudi Arabia is bringing him back to the squared circle. Check out the entire press release by the WWE,
"WWE Superstars return to Jeddah
— The Saudi General Sports Authority, in partnership with WWE, will host an event at the King Abdullah Sports City Stadium in Jeddah, Saudi Arabia, on Friday, June 7, at 8 p.m. AST. The event will feature WWE Superstars Roman Reigns, Undertaker, Kofi Kingston, Braun Strowman, Seth Rollins, Goldberg, AJ Styles, and Brock Lesnar, and stream live on WWE Network.
Additional details on the event's matches, ticket availability and pricing, and regional broadcast information will be announced in the coming weeks."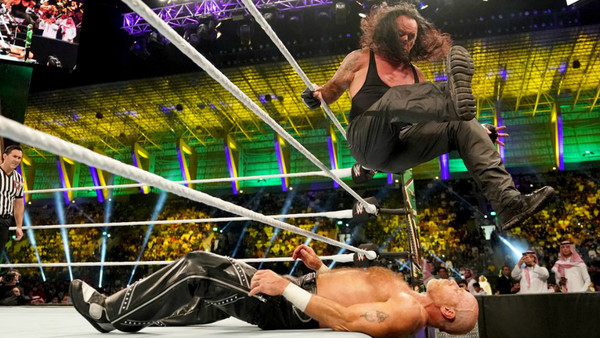 There's no update on any of the matchups for the Saudi Arabia show set for June 7th. But it is likely that Goldberg, The Undertaker, and Brock Lesnar will be competing in three separate matches to take us back to old school wrestling. Lesnar may get his rematch against Seth Rollins for the Universal Championship after losing it to Wrestlemania 35.
As for The Undertaker, Elias seems to be the most speculated opponent. He showed up on the post-Wrestlemania episode of Monday Night Raw to confront him hinting a match in the pipeline. As for Goldberg, there's no confirmation whether he's coming back to competition or will just make a special appearance. We will have to wait for Money in the Bank to pass by after which the buildups for Saudi Arabia show will begin.