The main event of WWE Stomping Ground turned out to be indeed interesting when Baron Corbin announced the special guest referee. It turned out to be Lacey Evans who failed to win the Raw women's title from Becky Lynch, earlier the night. So we expected another potential confrontation between the two of them. We did not have to wait long as her heel antics during the match way too bigger.
At one point, Seth Rollins received a kick to his groin from Lacey Evans that allowed Corbin to hit the End of Days. Becky Lynch ran out to the scene protecting her boyfriend from getting the pinfall win. She hit Lacey with a Bexploder Suplex causing a distraction for Corbin. Rollins utilized it hitting A Stomp on his opponent to pick up the win, Thereafter, the rarest scene happened, where a real-life couple celebrated to end Stomping Grounds.
WWE failed to invest the audience into the Universal title match set for Stomping Grounds. The fans are surely not in favor of a challenger like Baron Corbin whom they can't stand, at all. They could barely expect him to get two back to back PPV title matches. So, the only way for WWE to raise the anticipation was to add a special guest referee to the bout,
"Seth Rollins did the impossible at WWE Super ShowDown. At WWE Stomping Grounds, he'll have to do it again. Rollins will be in a nearly identical situation as at WWE Stomping Grounds, Rollins must defend his championship against the dangerous Lone Wolf while looking over his shoulder for "Mr. Beast in the Bank." And this time, Corbin has been given the right to select a Special Guest Referee for the matchup."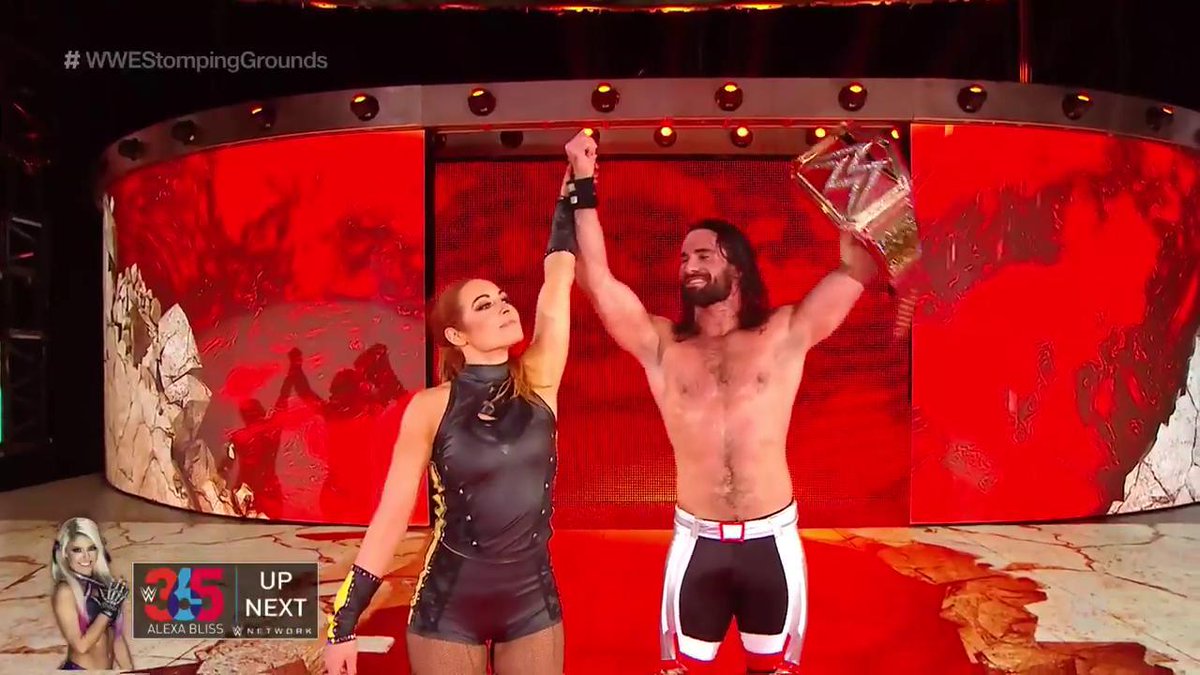 Speculations were all around the internet regarding this special guest referee's spot at Stomping Grounds. WWE intentionally never announced the name of the concerned person since they wanted the fans invested into the storyline. Plus, there was a chance to witness a big surprise in the main event match. It indeed was a pleasant moment as WWE introduced the newest couple on the roster to TV with a Becky Lynch run-in at Stomping Grounds. We hope to see them in more of such moments in the upcoming weeks, for sure.