Shane McMahon and Drew McIntyre had the opportunity to choose the opponent of Roman Reigns on WWE Raw main event, last night. They obviously wanted to ensure that he does not have a proper backup and hence called up a rookie from the locker room. He appeared to be a 5th-grade Prudential Center Employee of the Month Gary Garbutt whose face was hidden in a mask.
Drew McIntyre hit a Glasgow Kiss on Roman Reigns and sent him into the steel steps to make sure he stays out of the match. Thus McIntyre and McMahon can beat down Garbutt in a two-on-one assault. However, the masked man fought back super high0flying moves stunning the two heels. McIntyre had to put him down with a Claymore and thereby get the win. After the match, Gurbuit unmasked himself and he turned out to be Cedric Alexander stunning McMahon. Reigns protected him to fend off the two heels to stand tall even after the loss as we wait for Extreme Rules.
Roman Reigns returned to WWE Raw after short time-off that was intact for merely fifteen days. Coming back to work, he went up straight against the heel duo of Shane McMahon and Drew McIntyre, his Extreme Rules opponents. WWE.com announced a tag team match for him with a mystery partner in-store,
"The Scottish Psychopath and "The Best in the World" turned their tag team battle against The Undertaker and Roman Reigns into a No Holds Barred Match at WWE Extreme Rules next Sunday in Philadelphia. With that showdown looming, Reigns will have to team up with a partner of McMahon's choosing against "The Best in the World" and McIntyre on Monday's Raw, as first reported by Sports Illustrated. Plus, if The Undertaker interferes in the match, he's out of this Sunday's matchup."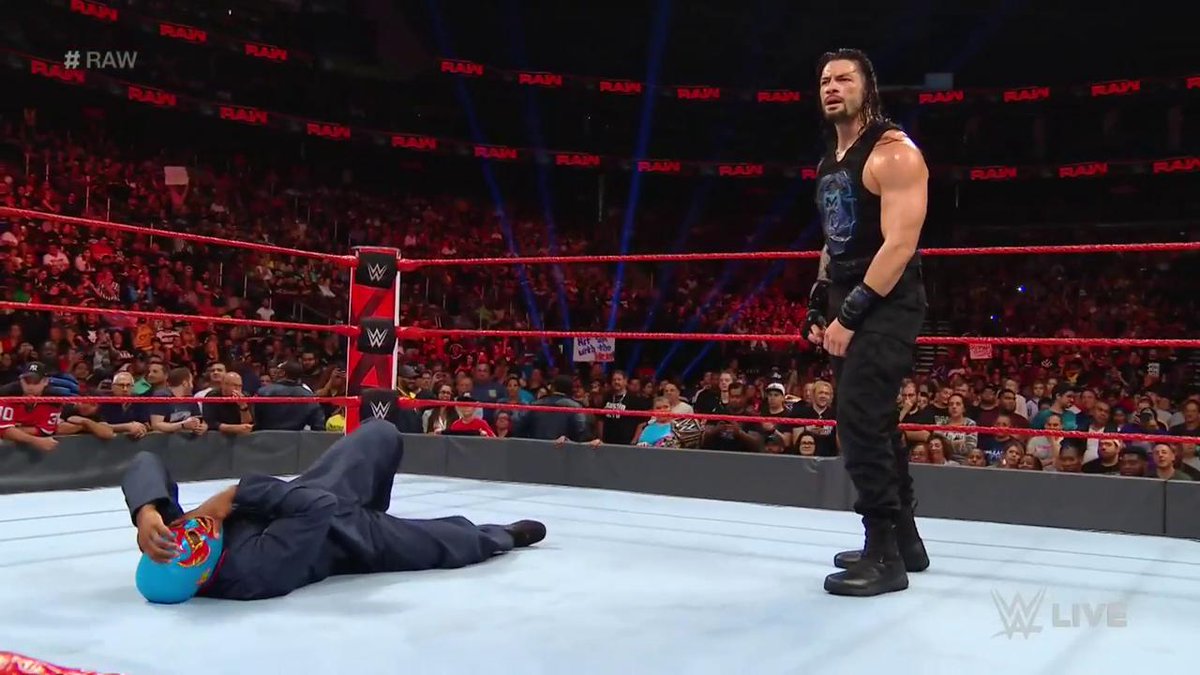 So heading into the match on WWE Raw, Roman Reigns did not have the upper hand, at all. First, The Undertaker was not going to be his insurance policy and secondly, Shane McMahon chose his partner. So we expected another beatdown must be in reserve for him on WWE Raw. Thankfully, Cedric Alexander ensured that did not happen and thereby kept his partner safe before Extreme Rules.